A review of the Ergotron WorkFit-S Sit-Stand Dual Workstation.
Sitting: The Sedentary Plague
There have been many studies recently on the effects of sitting for prolonged periods. The consensus seems to be that there are some significant long term health consequences. The peer reviewed article "Too Much Sitting: The Population-Health Science of Sedentary Behavior" published by the National Institute of Health found that:
Each one hour increment in TV time was found to be associated with an 11% and an 18% increased risk of all-cause and cardiovascular disease mortality, respectively. Furthermore, relative to those watching less TV (< 2 hours/day), there was a 46% increased risk of all-cause and an 80% increased risk of cardiovascular disease mortality in those watching four or more hours of TV per day, independent of traditional risk factors such as smoking, blood pressure, cholesterol and diet, as well as leisure-time physical activity and waist circumference.
While this evidence is targeted at TV viewers, it does not bode well for anyone who maintains a sedentary lifestyle.
Standing Desks to the Rescue?
A year ago, in April 2013, I decided that I should figure out a way to stand while I work at home. At first I considered building a convertible standing desk. I found some neat 12V car jacks that I thought I could work into a lift system in lieu of an expensive hydraulic system. I pulled out my drafting ruler and sketched up a mockup, but as I tallied the parts, I realized that it was going to cost more than I expected. I would likely spend more than $400 to build it and there was a fair possibility that the jack system wouldn't work without a lot of tweaking.
I started researching various off-the-shelf brands. I looked at UPLIFT desks as one option. They get good reviews, but they were a bit pricier, starting at $499. I browsed a lot of blogs and forums and was intrigued when I saw the Ergotron WorkFit-S. It clamps on top of a desk or table. It comes in a couple of flavors with one or two monitor mounts and a version with a worktop attachment.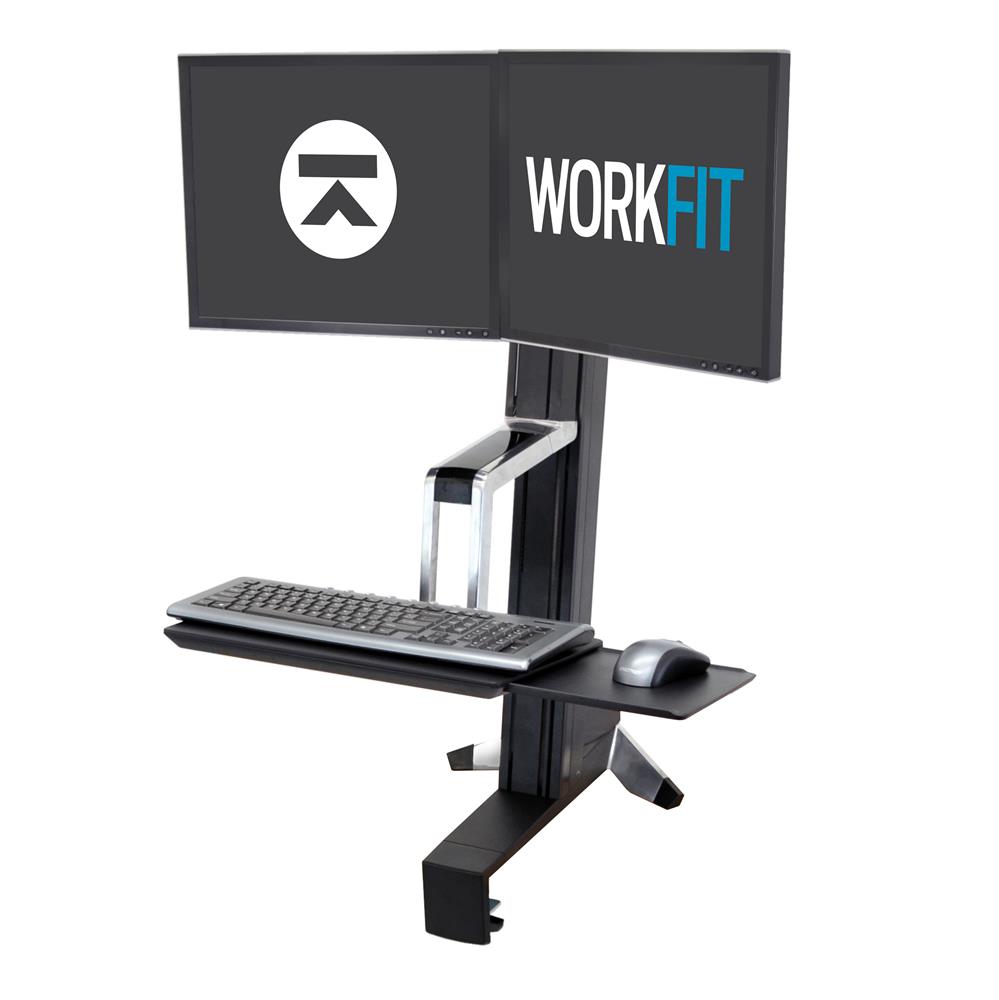 Setup
The WorkFit-S clamps on top of a desk or table. You mount your monitor(s) on the back-plate(s) via standard VESA mounts. Place your keyboard and mouse on the tray. I am 6'3" and when I stand I can put it at just below it's highest position and it is super comfortable.
It is extremely easy to convert between sitting and standing height. It has a dual pulley system that makes it almost effortless to raise and lower (even with two heavy monitors attached). A fantastic feature is that the monitor mount has a separate pulley system, allowing you to adjust the monitors independently of the keyboard height. I like to raise the monitors when I stand so that they are at a comfortable height and then lower them toward the keyboard when I am sitting. I really like being able to very slightly alter the height of the keyboard to ergonomically align my forearms so that my fingers do the typing.
Shaky
The one negative aspect is that typing or moving the mouse can shake the monitors when it is raised. This is a minor annoyance and is only really noticeable when I am violently typing. I try not to bash on the keyboard too much.
Final Thoughts
It will probably be a few years before another study can determine if standing can alleviate the deleterious effects of sedentary sitting. The NIH report indicates that it is physical activity that is the true savior of our cardiovascular systems. Maybe a treadmill should be my next major office upgrade...